Mission Statement

Our mission is to serve and meet the needs of our guests by God's provision and grace through relationships and excellence.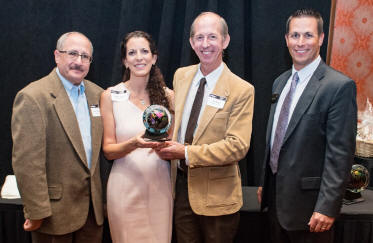 Adrian and Jay are awarded Kansas Hotelier of the Year, 2017
Welcome from Adrian and Jay Potter
This lovely, old Victorian home was built in 1887 by Edward E. Hazlett, a local physician. Dr. Hazlett and his family lived here until 1916, after his death the preceding year. There are many memories of this family held in these old walls, especially of the young Hazlett son, Swede, who was a close boyhood friend of Dwight D. Eisenhower. These two chums went to school together and enjoyed playing cards and spending holidays here. It was Swede who encouraged Ike to attend West Point Academy, which-of course-led to Ike's distinguished military career and eventual election to president of these United States.
Dr. Hazlett's widow sold the home to a prominent Abilene attorney, Arthur Hurd. The Hurds had four children and a busy social schedule. In 1920, Mr. Hurd offered his wife the option of remodeling their home or selling it and moving into "the big stone house with the tower near the railroad." Mrs. Hurd was opposed to living "that close to the tracks"; therefore, from 1920-1921, the family moved out of the house for one year while extensive remodeling was completed which almost doubled the size of the home. This transformation added an enlarged kitchen, sunroom, and formal dining room to the first floor. On the second floor, one bedroom was enlarged and a sunroom, bathroom, and two bedrooms were added. The third floor remained an unfinished attic. A Colonial Revival porch beautified and added to the exterior of the home.
After Mr. Hurd's death in 1943, the home was sold again in 1945 and converted into eight apartments that were rented during World War II. In 1992, Don and Diana McBride purchased the historic home, converted the third floor attic into a three-bedroom suite, and lovingly restored most of the home to its original 1920 splendor. It has been Abilene's premier Bed and Breakfast since that time.
We sincerely hope that you enjoy your stay in this wonderful old home and sense the love of family, and love of beauty intrinsic therein.
Adrian & Jay Potter
About Adrian and Jay Potter
Adrian, Jay, Martin, and Samuel, along with their yellow lab, Shea, moved to Abilene from Albuquerque, New Mexico. "We are committed to serving our guests with grace, civility, and excellence," said Adrian and Jay, the new owners of this fabulous Victorian bed and breakfast. "We take great pride in customer service and want to help our guests make lasting memories."
How did they first meet? "We met at a health club in Mesa, Arizona," says Jay, "and became body builders. We've been happily married for over 20 years."
Adrian, born in Chester, Pennsylvania, grew up in Wilmington, Delaware. Her family moved to Arizona when she was 16. Later, after she met and married Jay Potter, they moved to Albuquerque, New Mexico, where Martin and Samuel were born. They briefly moved to Topeka, Kansas before returning to Arizona, then settled in Albuquerque. Until they realized the dream of a lifetime: to own and operate a bed and breakfast.
Jay was born in Phoenix, moved to La Mirada, California until he was seven, then back to Phoenix for most of his teen years. He then took some accounting classes at a junior college in California. Once he and Adrian married, they raised children and worked to build their dreams. This finally led to their buying Abilene's Victorian Inn in Abilene, Kansas.
Both Adrian and Jay have extensive experience with customer service, food service, and hospitality.
Both sons were born in Albuquerque: Martin in 1990, and Samuel in 1992. Both are involved in sports. Martin plays tennis. Samuel plays baseball and golf. Shea, their yellow lab, just plays.
Community Service
Both Jay and Adrian have been volunteers for Little League baseball and school band, as well as participating in various catered events as servers and set-up. They've also catered, organized, and spoken at Passover Seders for the past 10 years.
Adrian's Credentials and Certifications

Adrian Potter holds an AAS-Associate of Applied Science degree in Culinary Arts. She is a CFM: certified food manager, Serv safe: safety and sanitation, Professional Cooking, Professional Baking, Food Service Management, and Certified Culinarian.
Licensed and inspected by the Kansas Department of Agriculture.
The following is a list of professional credentials and memberships:
Click here for more photos of Abilene's Victorian Inn Bed & Breakfast