ABOUT US
Looking for a Kansas vacation or getaway. Experience peaceful luxury combined with convenient modern amenities! Abilene's Victorian Inn--an enchanting yet comfortable bed and breakfast in the heart of Abilene, Kansas--features 6,000 square feet of Victorian elegance. We offer private bathrooms with each room in a setting that is truly Abilene, not a hotel. We are just blocks from the Dwight D. Eisenhower Presidential Library and Museum.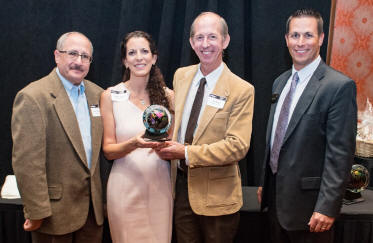 Kansas Hotelier of the Year, 2017
Recently listed on The State Register of Historic Kansas Places. Prices range from $79.-$279. Please call for information.
Abilene's longest established Bed & Breakfast! Experience the heart of Abilene, not a hotel!
We are the inn with a private bath with each room, and fresh, clean sheets for arriving guests!
We have extensive experience with customer service, food service, and hospitality and were named the 2017 Kansas Hotelier of the Year.
We are committed to serving our guests with grace, civility, and excellence. We take great pride in customer service and want to help our guests make lasting memories. We are actively engaged in our community and youth activities.
Adrian's Credentials and Certifications
Adrian Potter holds an AAS-Associate of Applied Science degree in Culinary Arts. She is a certified food manager (CFM), Serv-Safe certified (safety and sanitation), and certified Professional Cook, Professional Baker, Food Service Manager, and Culinarian.
We are licensed and inspected by the Kansas Department of Agriculture.
Member: American Culinary Federation

Member: International Food Service Executives Association

Member: Kansas Bed and Breakfast Association

Member: Professional Association of Innkeepers International